The Deal
Recently, Heitman LLC., a global real estate investment management firm, acquired Rent-A-Space Shrewsbury. The investment marks the first acquisition expanding Space Station, a UK self storage platform that a Heitman affiliate acquired in late 2020, and is the platform's first storage solution in the West Midlands region. Upon acquisition of the property, Heitman plans to complete the remaining lease-up of the asset while converting bulk space into additional conventional self storage units as part of the value proposition of the acquisition.
The Facility
The asset was purpose-built in 2016 and is in the final stages of its lease-up. The high-quality facility consists of 58,000 net rentable square foot of self storage.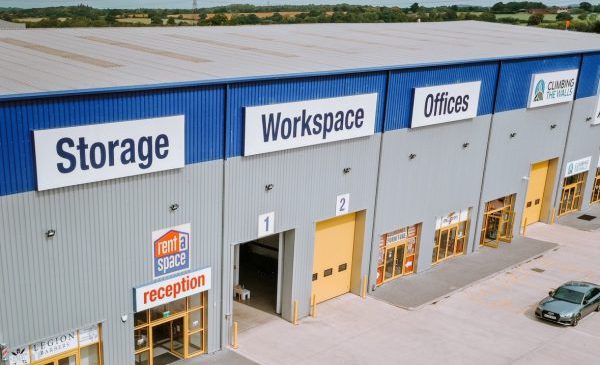 The Market
The county seat of Shropshire, Shrewsbury is inside a curve of the River Severn. Positioned near the English-Welsh border, the town is one of historical importance.
Shrewsbury was the birthplace of Charles Darwin, whose statue stands in front of the Shrewsbury School. The red-brick Shrewsbury Castle is now a museum which houses military artefacts.
Market at a Glance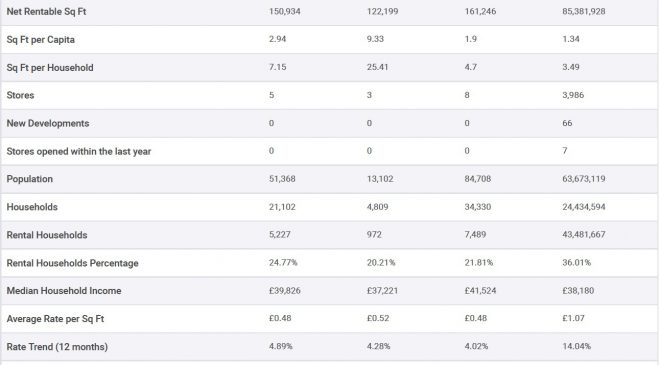 Supply
With five and eight stores within a three and five-mile radius, respectively, and populations of 51,368 and 84,708, the area seems as though it could be underserved. However, when evaluating the one-mile radius, the gross square footage sky rockets to 9.33 with a national average of 1.34.
A strategic marketing initiative could capture the three and five-mile population which have gross square footage per capita of 2.94 and 1.9, respectively. There are no developments in the pipeline and no stores have opened within five miles in the last year.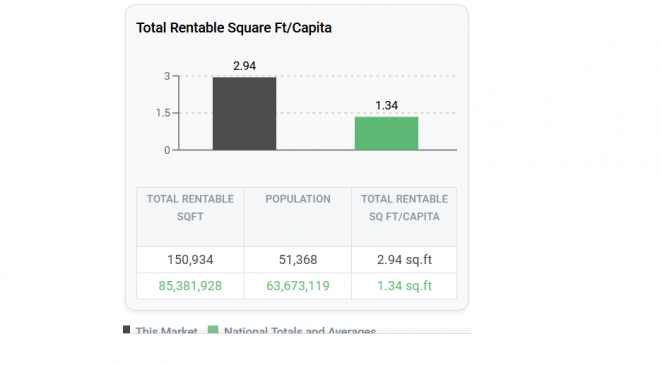 Demand
Despite the disproportionate gross square footage in the trade area, rental rate trends have still increased by 4.28%, 4.89% and 4.02% within a one, three and five-mile radius, respectively. Rental households consist of 20.21%, 24.77% and 21.81% within a one, three and five-mile radius, respectively which is lower than the national average of 36.01%. This could indicate low demand however an increase in population could remedy this.
Three Things You Should Know about Shrewsbury
Average rental rates within a three-mile radius are £36.85, compared to a national average of £48.67. This could represent a market's tolerance for supply.
Median household income is £39,826 slightly higher than the national average of £38,180 and although property values are only slightly lower, £190,049 compared to £190,133 nationally, rental costs are £848 compared to the national average of £707.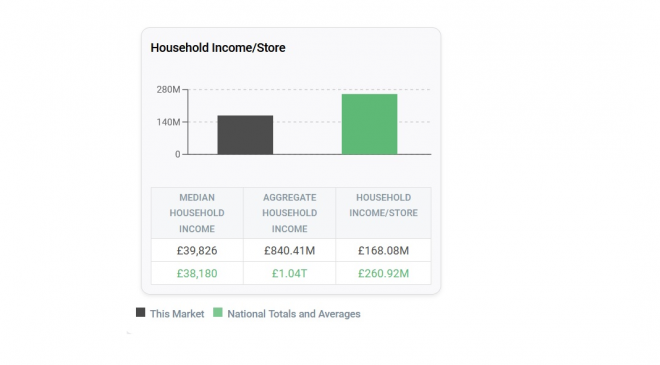 Finally, there have been no discounts offered by any stores within a three-mile radius over the past three months which could be indicative of a stabilized market.